Civic Responsibility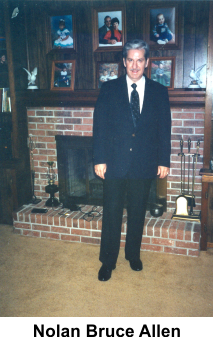 NBA is an honorably discharged Army veteran. He served in Korea in the Demilitarized Zone (DMZ) area in the early sixties. His First Cavalry outfit later transferred to Vietnam. In the mid- sixties he was assigned to the European Theater where he served in Germany with the 7th Army.
He received numerous Medals for his war time military service. During a mid-seventies National Guard stint NBA received New York's Commendation Medal signed by then-Governor Hugh Carey for Exemplary Service during the "Blizzard of '77".
NBA is deeply patriotic to America, and holds for-life memberships in the American Legion and Veterans of Foreign Wars. He is a staunch supporter of fair environmental policy, Veterans rights, Constitution and Bill of Rights, Law Enforcement and world wide Human rights. Whenever possible he make's himself available to speak at Veterans and Police functions.
NBA strongly supports Better Business Bureau policies that promote high business ethics. He and/or his entities have been BBB members since 1980 with membership also in the Academy of Western Artists, Western Swing Music Society of the Southwest, Texas Steel Guitar Association, President Bush's "Presidents Club", Veterans of Foreign Wars, American Legion, Planning Board Grand Island, NY and in local and U.S. Chambers of Commerce.
Generous by nature, NBA supports efficient charities, high schools & universities.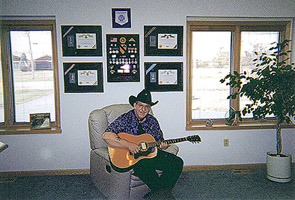 NBA in office polishing up a tune before leaving for a show. His military medals in background.
We met NBA when he was singing & playing lead guitar in a popular country group years ago. His heart being in Western Swing, we were not surprised when he left and formed his own LONE STAR WESTERN SWING BAND. Our association developed into a strong, lasting friendship. He is highly self-motivated & maintains exemplary ethical standards. He hires only the best & most experienced musicians, always uses cutting edge sound equipment, loves and respects his fans & has that certain something about him that makes people feel good about themselves. His music skills & leadership carries over to all his business endeavors, propelling achievements & success to exceptional levels. We observed & admired his steady, upward climb & are amazed at his knowledge & experience in the music he loves. His "NBA SALUTES THE BOB WILLS ERA" recordings is some of the finest, best quality music we've heard anywhere. We are honored, proud to know & have as our friend New York's own King Of Western Swing!

Dave and Mary Jo Jacobs
Grand Island, New York