Incredible but True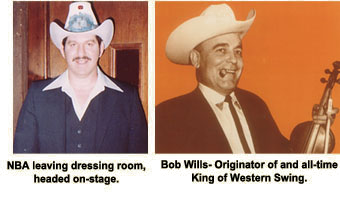 NBA's biggest musical influence, the great and legendary Bob Wills unfortunately passed away before he had the privilege of meeting him. He has met and knows many original members of Bob's super Texas Playboy Bands, including Bob's daughter Rosetta. She is a classy lady with a very appealing nature likely inherited from her famous father. From Rosetta's book "The King of Western Swing" and other sources NBA was astounded to learn about the great many coincidental similarities he shared with Bob. To highlight a few:
Both came from large farm families, plowed mules, picked cotton & played with other poor kids.
Both are one of ten children.
Both had Fathers who were contest-winning fiddlers.
Bob wanted to be a Baptist Preacher. NBA's father was a Baptist Preacher.
Both served their country in the Army.
Both have two brothers who also had bands.
Bob's brother Luke sang with his Texas Playboys. NBA's sister Betty sang with his Lone Star Band.
Both spotlight band members by calling their names while performing.
Both often help out their band members, friends and fans.
Bob was the oldest of ten kids. NBA's brother, named Bob - was the oldest of ten.
---
And the greatest similarity of all...both overcame humble beginnings and became immensely successful in their own way.
I met NBA at a Western Swing event in Wichita Falls, Texas. Knowing him now for several years convinces me that he is a sincere, compassionate and upstanding man. Performing on and contributing to his recording projects is a real pleasure but most of all it is an honor to be one of his many friends. I share his love of Western Swing music and it does my heart good to see it in New York under his fine stewardship!

Mark Abbott, Bassist
Bob Wills Texas Playboys
---
"I've played double deck Pinochle all my life, This is the first time I was dealt triple Aces around...
...Ditto for the triple-run!"